Commissioning
Prerequisites
You will have validated the catalog structure you will need to differentiate well between an offer and a product you will have verified that your products are eligible.
Catalog > Amazon > Offers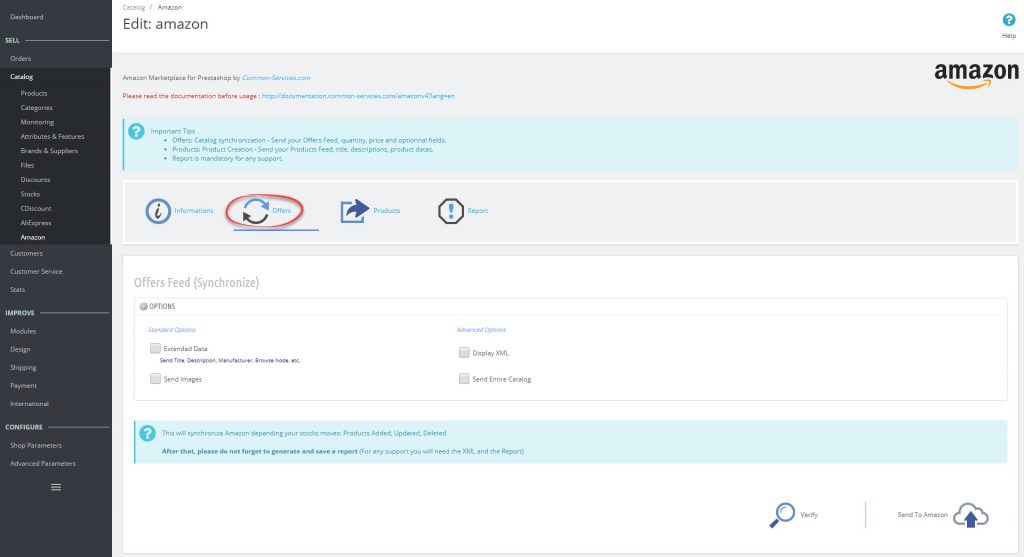 You will find your store categories in Categories tab of the module configuration. In order to send the offers, you will need to select the categories you want to export.
To start, select one category to become familiar with the module, then you will renew the operation for the other categories.
Now check the proper functioning of logging:
Save the module parameters
Go to a product sheet in this category (Catalog > Products tab)
Select a product: Update
Go to Catalog > Amazon > Offers
Click on Check
You will find that the product you have modified is ready to be updated on Amazon, click Send to send your "Feed".
Then go to the Report to verify that your submission is effective.
Nota Bene :

There is a delay between sending the feed and actual update on Amazon. It is possible that there would be a significant delay between transmission and effective display on Amazon. Wait for the availability of the report, if it does not display an error, information submitted will be online within minutes or up to several tens of minutes.